Size: 140 x 70 x 20mm ( 5.51 x 2.76 x 0.79" )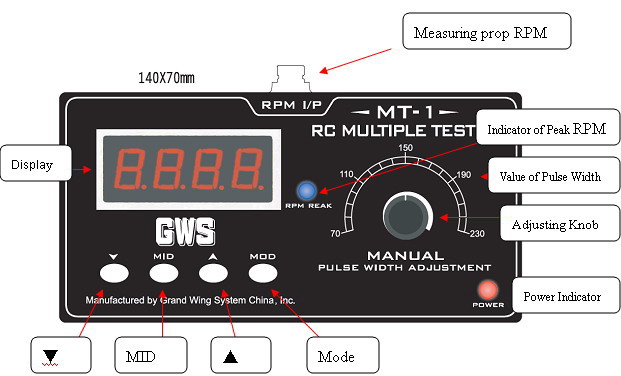 Left Side size: 70x20mm (2.76" x 0.79") Right side size: 70x20mm (2.76" x 0.79")
---
ITEM:GWRMT001
MT-1, the Multi-Tester
A more advanced tester for servos and rotating propeller.
MT-1 (GWRMT001) is the newly designed/made multi-tester. It comes with more advanced functions than what on the old Servo Tester.
Size: 140 x 70 x 20mm ( 5.51 x 2.76 x 0.79″ )
Weight: 110g / 3.89 oz (Batteries not included)
Functions and applications:
◆To measure the Pulse Width transmitted by Transmitter for up to 9 channels.
◆To measure the Pulse Width sent from Receiver.
◆To test the rotations of Servo automatically – at the pulse widths of top, medium and low points set by user already.
◆To test the automatic rotations of Servo.
◆To test the rotations of Servo by turning the knob on the tester manually .
◆To test the sensitivity of Servo (1μS per step minimum).
◆To measure RPM of a spinning propeller – for 2 – 6 blades ones, real time RPM value shown/to set the peak RPM value up to 99990 per minute.
◆Shiny 4 digits red LED's to display the values measured.
◆Power source can be from UM-4 / AAA cell x4, or an adapter with 7-15V or BEC (5V) from an ESC.
◆An output port for applying Positive/Negative signals of Pulse Width from this tester.
◆Four buttons for setting up functions and modes.