When you hear the name "Chuck Hamilton," you may think of his plans-built SBD-3 Dauntless model, with which he placed in the Expert class at the Top Gun Scale Invitational. So when we saw photos of his latest creation, a Ki-43 Oscar, and heard that it was originally a Hangar 9 ARF, we knew we had to find out more. Here's what Chuck had to say about his warbird makeover.
Model Airplane News: How did you get started in radio control and building scale models?
Chuck Hamilton: I grew up with model airplanes, as my dad was always into it from the start. I was always the little kid playing in the dirt with my toys while dad and his friends flew. For the first five years of my life I thought was a bloodhound, as every time a plane went into the corn I jumped up and fetched it! But once I hit my early teens I become involved in motorcycle racing and pursued that until my mid-thirties. After an accident and shoulder surgery I drove straight to the hobby shop and bought a Top Flite kit. I never looked back!
I really enjoy scale aircraft and modeling is just my way of staying connected to it, plus once I found the competition side of scale modeling I really became hooked. I live in Bremen, Indiana with my wife of 32 years and do belong to a few area clubs but I really enjoy going to new events across the Midwest and meeting new people that share the same passion as I do. Plus in some small way, I get to stay connected with my dad.
MAN: Why did you choose to give this particular ARF model a facelift?
CH: My motivation was to make the Hangar 9 Ki-43 Oscar, with its beautiful lines, something special. I also wanted to show the local RC guys that you can make an ARF your dream aircraft.
MAN: Tell us about the process of transforming the Oscar.
CH: I stripped off the covering in about an hour with very little to clean or repair. I must admit, the covering was very well done and durable. If I had to do it all over again, I would paint right on top of the covering. It's that good! I glassed the airframe in a weekend using Zap Finishing Resin and 0.73-ounce Sig cloth. I primed it the following weekend and spent a day sanding it all off. I spot-puttied any areas that needed it and primed again and sanded.
Next, I drew the panel lines on in pencil and applied Chartpak tape over the lines. I added a few coats of primer, and when that was dry, I just peeled off the tape for a nice, crisp panel line! I burned in all the rivets with my modified soldering iron which took about 8 hours in total. Add a few details and then it was ready for paint!
MAN: How did you create the new scale scheme and all the scale details?
CH: I love to build, but once in a while I will take an ARF and experiment with paint and weathering techniques. I am a latex paint kinda guy, but on this project, the whole paint job with the exception of the weathering is rattle cans! Even the primer is rattle cans. The results speak for themselves.
The little extras like the fake exhaust, fuel caps, antennas, and nav lights are made from just scrap items laying around. Nothing special but a little elbow grease and good documentation.
MAN: How long did the transformation take?
CH: Full disclosure, I glassed and primed the Oscar in the fall but didn't start doing the details, paint and final assembly until the Christmas holiday two-week break. The final assembly was very quick and I applaud Horizon Hobby for the design and ease of assembly.
MAN: What power and radio system did you install?
CH: I pretty much assembled the aircraft just like Horizon Hobby suggested, right down to the Spektrum servos and FG90 radial engine. I must admit, that engine is the perfect combo for this size aircraft. I broke the engine as described, set the needles as per the manual and haven't touched it yet. By the way, I typically fly this aircraft twice on the same fuel and air fill! The fuel consumption is so minimal I have to look twice at it. And the sound is just outstanding. I didn't use any special muffler or exhaust, just what came with it the engine. All in all, it took about three weeks to get it done and ready to fly after it was all painted.
MAN: How is the Oscar's flight performance?
CH: In the air, she flies like a P-47 but better and more nimble, and landings are very predictable with the flaps. I did couple a little bit of down-elevator with the flaps as she will pitch up a bit. That's my story and I'm stickin' to it!
MAN: Thank you for taking the time to share your ARF transformation with us, and we look forward to seeing you both on the flightline soon!
The Oscar has a few different exhaust styles, and the aircraft I represented uses the flat style. Using a good 3-view, I cut the exhaust out of sign board and sanded it to shape. Because the material is a little porous, it looks the part of a cast item. A little Zap canopy glue for the fake weld and paint makes the exhaust really stand out.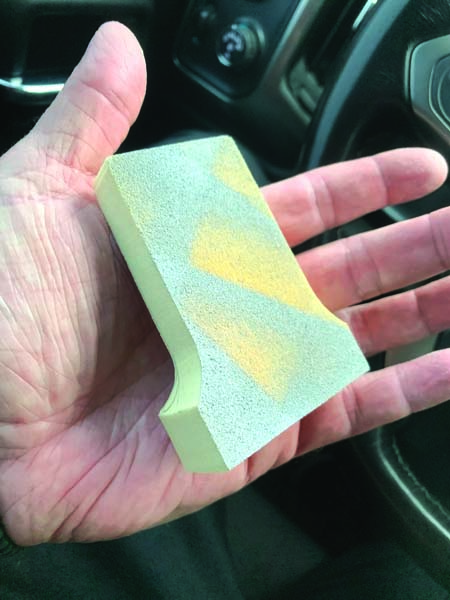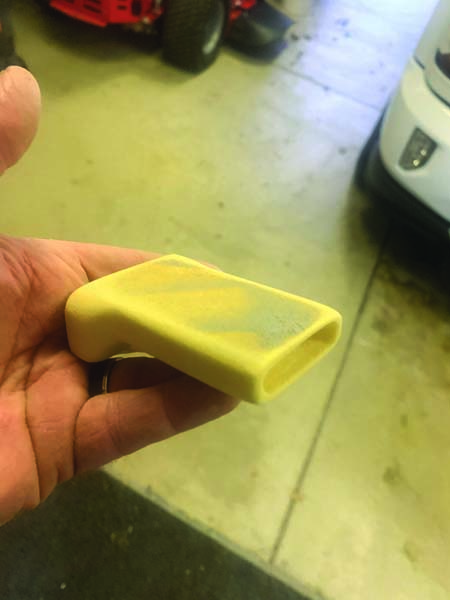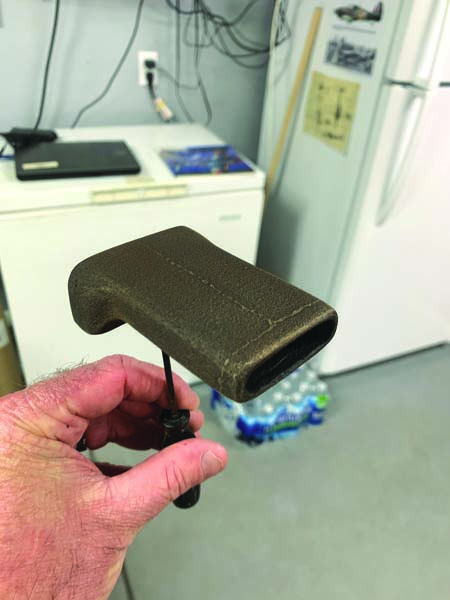 ---
By DEBRA CLEGHORN
Photos by Palmer Johnson & CH:uck Hamilton